Store Information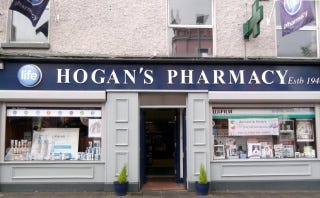 Opening Hours
Monday
09:00 AM - 06:00 PM
Tuesday
09:00 AM - 06:00 PM
Wednesday
09:00 AM - 06:00 PM
Thursday
09:00 AM - 06:00 PM
Friday
09:00 AM - 06:00 PM
Saturday
09:00 AM - 05:30 PM
Our Available Services
About Us
Established by Pat Hogan in 1940, Hogan's Life Pharmacy is now owned by his daughters Elenora Hogan and Marie McConn. The pharmacy entered its 80th year in September 2019 with Marie at the helm as Supervising Pharmacist.

Hogan's Pharmacy is proud to have served the people of Limerick and its surroundings for 80 years and for taking care of many fourth-generation families that use Hogan's services.

A lot has changed since the early days of creating our own lotions, ointments and powders to now providing tailored high-tech medicines to individual patients.

To offer more extensive care facilities, Hogan's joined the 100% Irish-owned Life Pharmacy network in 2018.

We would like to all our patients and customers for their continued support and look forward to serving you and your families as Hogan's Life Pharmacy long into the future.