Hogan's Life Pharmacy Parnell St.
Store Information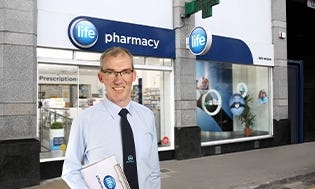 Opening Hours
Monday
09:00 AM - 07:00 PM
Tuesday
09:00 AM - 07:00 PM
Wednesday
09:00 AM - 07:00 PM
Thursday
09:00 AM - 07:00 PM
Friday
09:00 AM - 07:00 PM
Saturday
10:00 AM - 06:00 PM
Our Available Services
About Us
We're proud to be a member of Life Pharmacy, a 100% Irish-owned network of community pharmacies located across the country.

Our combined experienced has helped to take care of families in Ireland for generations, a pattern we aim to continue for many more years to come.

Being part of Life means we can continue to provide excellent care and advice together with improved services for our customers and patients.

We would like to thank you for your custom and look forward to being by your side long into the future.
Please don't hesitate to visit us with any health queries you may have. We're always ready to help.