Store Information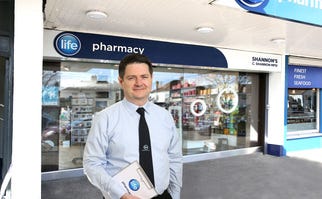 Opening Hours
Monday
09:00 AM - 07:00 PM
Tuesday
09:00 AM - 07:00 PM
Wednesday
09:00 AM - 07:00 PM
Thursday
09:00 AM - 07:00 PM
Friday
09:00 AM - 07:00 PM
Saturday
09:00 AM - 06:00 PM
Our Available Services
About Us
Shannon's Life Pharmacy was opened by Michael and Aoibheann Shannon in 1967. Thirty years later, their son Criofan and daughter-in-law Elaine took over the pharmacy and subsequently joined the Life Pharmacy group in 2015.

It has always been a healthcare and patient-focused pharmacy, although we it still maintains a wide range of cosmetics and skincare products. It was the first pharmacy in Ireland to use a robotic dispensary system. In 2018, this system was updated to a larger, quieter and more efficient version.

The pharmacists include Jenny, Paul, Fionn and Criofan. You will usually find two, if not three, of these on duty to answer health queries and provide counsel on the correct use of prescribed medications.

There is a strong team supporting the pharmacists (Ashley, Aimee, Bobby, Jane, Jackie, May and Theresa), most of whom have helped and assisted patients and customers in the pharmacy for many years. We take pride in being part of the community in Ballyroan, Rathfarnham and look forward to welcoming and helping you with all your pharmacy needs.