Store Information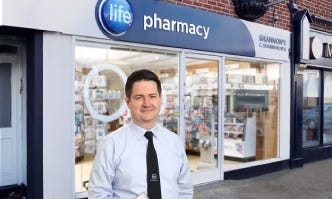 Opening Hours
Monday
09:30 AM - 01:00 PM - 02:00 PM - 06:00 PM
Tuesday
09:30 AM - 01:00 PM - 02:00 PM - 06:00 PM
Wednesday
09:30 AM - 01:00 PM - 02:00 PM - 06:00 PM
Thursday
09:30 AM - 01:00 PM - 02:00 PM - 06:00 PM
Friday
09:30 AM - 01:00 PM - 02:00 PM - 06:00 PM
Saturday
09:30 AM - 01:00 PM - 02:00 PM - 06:00 PM
Our Available Services
About Us
Shannon's Life Pharmacy Templeogue was first opened by Ms. Clare Rooney in 1948. The late Michael Shannon (father of the present owner) worked for the Rooney family for some years before taking over in 1957 as Clare had emigrated to Australia.

Over the years many family members have worked in the pharmacy (Michael, Aoibheann, Fionnuala, Bebhinn and Criofan).

The pharmacy is now run by pharmacist Martin, from Laois, assisted by Kamila, from Gdansk. The pharmacy still has a family-run feel with great care and attention to all patients and customers being our priority.

The pharmacy has been part of the community in Templeogue, with a strong focus on healthcare, for more than 70 years and we look forward to many more!