Explore Revive
Formulated and manufactured in Ireland, the Revive Active range of super supplements are exported throughout the world to over 48 different countries, supporting optimum health in brain, skin, joint and energy and immune care. Simply add to water or juice and take first thing in the morning on an empty stomach
No stimulants and no added colour. Contains a natural sweetener and natural flavours.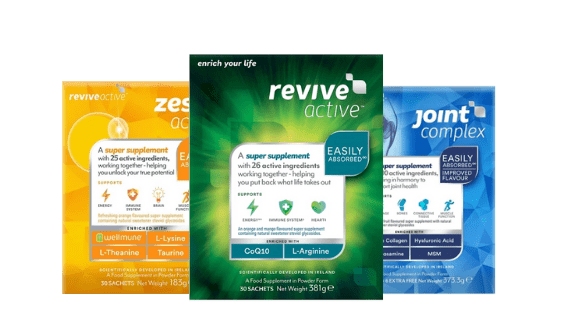 Why shop with us
Life Pharmacy offer a variety of healthcare, skincare & beauty products online & instore. With over 60 Life Pharmacies across Ireland we offer a comprehensive range of healthcare services you can book online or instore. Whether you want to improve your health, boost immune system or get some helpful advice, our Pharmacy team are on hand.
At Life Pharmacy, we understand that skincare can be a source of stress and anxiety, so here you can easily find the right products and advices. Visit as well our Beauty Category for products, advices or brands you're very passionate about, while getting tips by specialists on how to use them to maximize your budget or experience.
Take small steps towards your health journey, plan ahead the seasonal changes, stress-work cycles or personal events. Remember that Life feels like a marathon but sometimes all that you need is a little help along the way. Visit our Tips & Advises to find health coaches and pharmacy staff
Earn points with every purchase, save on your next order and spend them online!
Registering with Loyalty for Life Rewards - may it be for a new card and be entitled to 200 points or linking your existing one - will make your Life easier with savings