Emergency Hormonal Contraception Consent Form

An Emergency Hormonal Contraception Consent form should be signed by a patient prior to consultation. This is to confirm that the patient agrees to the procedure and is aware of any risks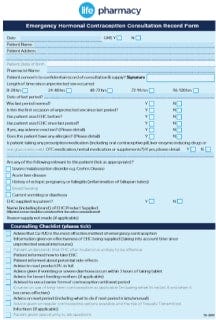 that might be involved. An entry must also be captured in the Patient's Medication Record (PMR) on the pharmacy computer, in line with good pharmacy practice.
This recording should be made with the patient's full knowledge and consent, and patients must be assured of the confidentiality of such records.The management of any data or information recorded, collected, or retained should be in accordance with relevant legislative provisions.
Please download a copy pf the Emergency Hormonal Contraception Consent Form before visiting your pharmacy.